Hotel Locanda di Bagnara
Piazza Marconi, 10, Bagnara di Romagna, 48010, Emilia-Romagna, Italy
Show on map
A tavern and post office through the entire 17th-century, a noble residence in the 19th-century, today this beautiful property is a small but charming hotel, restaurant and refined wine bar. Set in Bagnara di Romagna, between Ravenna, Bologna and Imola, the Locanda di Bagnara is found in an ideal location among the hotels in Romagna. Here you can discover a land offering unusually attractive places, between historic villages and artistic beauty, natural delights and typical products, traditions ranging from the art of ceramics to gastronomic specialties. The common areas also host meetings and conventions, press conferences and presentations. The events are enhanced by the cuisine of the Locanda, ensuring delicious coffee breaks and buffets, perfect working lunches and gala dinners.   The elegant rooms offer an enchanting atmosphere. Available in deluxe and suite versions, each room is different from the next, features a marble bathroom, and is named after a vineyard in Romagna.   The restaurant, converted from the cloister of the old residence, is covered by a glass ceiling to create a sort of indoor garden, and the tavern is divided into three rooms, each with a fireplace. The Wine bar, or enoteca, of the Locanda, is among the most sought-out in Romagna. More than 130 labels are the fruit of a detailed research for national and regional excellence and offer rich terrain for wine-tasting, whilst the 17 labels of the distillery provide tastes of grappa, rum, cognac, and more. "Cooking is passion, dedication and effort, but it is all repaid by satisfaction when the client begins to understand it", these are the words of Mirko Rocca, chef and owner of the Locanda di Bagnara, who loves to welcome guests with a meal, citing Gianni Mura, that is "clever, clean, with careful combinations". Meat and fish, and local vegetables and produce are offered in dishes inspired by tradition and revisited with the international experience of Mirko Rocca, who previou
Show More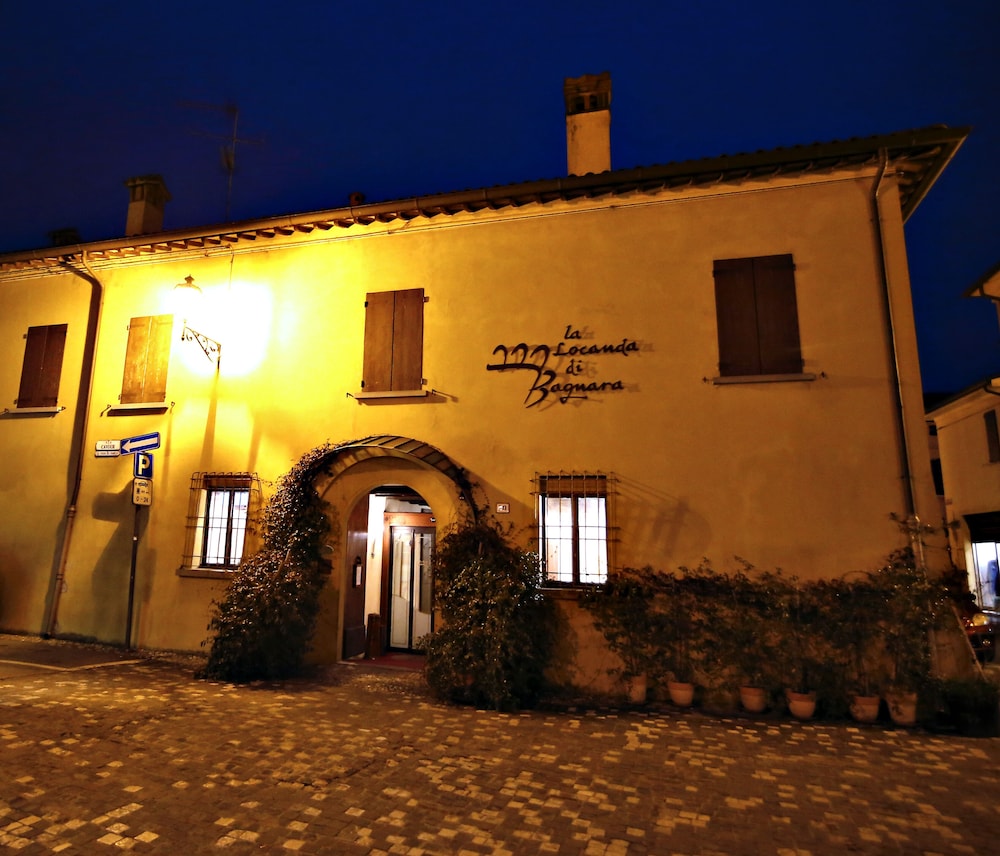 2 places of interest within 3281 ft, 656 ft from downtown
View Map
Wi-Fi in designated areas
Hotel Policy
Check-in and Check-out
Check-in

from 16:00 to 22:00

Check-out

from 07:00 to 11:00
Child Policies
Children are welcome at this hotel. Additional fees may be charged when a child stays at the hotel with parents or guardians, please confirm with the hotel.
Need to Know
Check-in and Check-out Times
Check-in: from 16:00 to 22:00. Check-out: from 07:00 to 11:00. Please ensure you check in within the designated times.
Important City Info
[Aug 6, 2021 - Dec 31, 2021] According to the Decree Law n.105 dated 23rd July 2021, from the next 6th August 2021, the access to the following hotel facilities is allowed ONLY to guests with Covid-19 certification(Green Pass): - Indoor bars and restaurant; - Indoor Wellness centre, indoor gym and swimming pools; The possession of the Green Pass is mandatory to access the accomadation facilities for some hotels. For details, please contact the hotel.
Hotel Description
A tavern and post office through the entire 17th-century, a noble residence in the 19th-century, today this beautiful property is a small but charming hotel, restaurant and refined wine bar. Set in Bagnara di Romagna, between Ravenna, Bologna and Imola, the Locanda di Bagnara is found in an ideal location among the hotels in Romagna. Here you can discover a land offering unusually attractive places, between historic villages and artistic beauty, natural delights and typical products, traditions ranging from the art of ceramics to gastronomic specialties. The common areas also host meetings and conventions, press conferences and presentations. The events are enhanced by the cuisine of the Locanda, ensuring delicious coffee breaks and buffets, perfect working lunches and gala dinners.   The elegant rooms offer an enchanting atmosphere. Available in deluxe and suite versions, each room is different from the next, features a marble bathroom, and is named after a vineyard in Romagna.   The restaurant, converted from the cloister of the old residence, is covered by a glass ceiling to create a sort of indoor garden, and the tavern is divided into three rooms, each with a fireplace. The Wine bar, or enoteca, of the Locanda, is among the most sought-out in Romagna. More than 130 labels are the fruit of a detailed research for national and regional excellence and offer rich terrain for wine-tasting, whilst the 17 labels of the distillery provide tastes of grappa, rum, cognac, and more. "Cooking is passion, dedication and effort, but it is all repaid by satisfaction when the client begins to understand it", these are the words of Mirko Rocca, chef and owner of the Locanda di Bagnara, who loves to welcome guests with a meal, citing Gianni Mura, that is "clever, clean, with careful combinations". Meat and fish, and local vegetables and produce are offered in dishes inspired by tradition and revisited with the international experience of Mirko Rocca, who previou
Services & Amenities
Wi-Fi in designated areas
Free
Airport shuttle service
(Additional fee)
Restaurant
Café
Bar
Front desk (24 hours)
Massage
Luggage storage
Children's meals
Conference hall
(Additional fee)
Multilingual staff
Fax/copying service
Business center
ATM
Restaurant
Transportation Services
Airport shuttle service

(Additional fee)
Front Desk Services
Express check-in/check-out
Cleaning Services
Laundry service

(Additional fee)

Laundry service (off-site)
Public Area
Wi-Fi in designated areas

Free
Business Services
Conference hall

(Additional fee)
Transport & Attractions
Airports
Luigi Ridolfi
About 35m from hotel by car
23.9 mi
Bologna Guglielmo Marconi Airport
About 43m from hotel by car
32.8 mi
Railway Stations
Forlì
About 36m from hotel by car
22.6 mi
Ravenna
About 36m from hotel by car
23.2 mi
Places of Interest
Chiesa di San Giovanni Battista e Sant'Andrea
402 ft
Santuario della Madonna del Soccorso
0.7 mi
Chiesa di Sant'Eustacchio Martire
0.9 mi
Santuario Madonna della Salute
2.2 mi
Parrocchia di Santa Maria Assunta
2.2 mi
Distributore non automatico di Coraggio
2.8 mi
Pieve Romanica di Santo Stefano
2.9 mi
Museo della Frutticoltura A.Bonvicini
3.7 mi
Il Santuario della B.V. Maria del Trebeghino
3.8 mi
Haven't found the right hotel yet?
24/7 Customer Support
We're here to help whenever you need us
Over 400 Million Members
4-star rating on Trustpilot
Book Worry-free
Thousands of hotels can be canceled for free with our Flight and Hotel GuaranteeLearn More
Secure Payment
Payments are secured using the latest industry standards