Hilton Garden Inn Clarksville
290 Alfred Thun Road, Clarksville, TN 37040, Tennessee, United States
Show on map
Opened: 2008 Experience a warm Tennessee welcome and a relaxed New South attitude at Clarksville's most modern full service hotel, the Hilton Garden Inn Clarksville hotel. Located at Exit 4, just off of I-24, the Hilton Garden Inn Clarksville, Tennessee hotel is adjacent to the Clarksville-Montgomery County Corporate Business Park (home of the new Hemlock Semiconductor Site), minutes from Fort Campbell and Austin Peay State University, and less than an hour from Music City USA - Nashville, Tennessee.The Hilton Garden Inn Clarksville, TN Hotel Rooms Feature:* The Garden Sleep Systema?¢ adjustable beds in all of our rooms. It's the best night's sleep you have ever had!* Complimentary wireless and wired high-speed Internet access throughout the hotel and rooms* 32'' High Definition Plasma Televisions with complimentary HBO??* An in-room hospitality center with a microwave, micro-fridge and coffee maker* A large work desk with Herman Miller Mirra?? Ergonomic Desk Chair* A Complimentary USA Today?? delivered to your room each weekday morningDine at the Great American Grill?? at our Hotel in ClarksvilleThe Hilton Garden Inn Clarksville hotel restaurant, the Great American Grill, is the perfect place to start your day, catch a quick lunch or finish off the day with a meal that is both casual as well as classic. Our Chef has prepared a menu that is one of a kind, featuring your favorite Southern influences: Coastal, Cajun, and Comfort. Perhaps you would rather dine in the comfort of your room. The Hilton Garden Inn hotel in Clarksville, Tennessee offers room service nightly from 5pm to 10pm. There's no need to go out to meet friends for that evening drink, the Great American Grill also has a full service bar. Try one of our specialty martinis, a glass of wine or grab a cold beer and never have to leave the parking lot.The Pavilion Pantry?? has a selection of refrigerated, frozen and microwaveable items perfect for your in-room enjoyment, plus a wide array of healthy snacks. Don't worry
Show More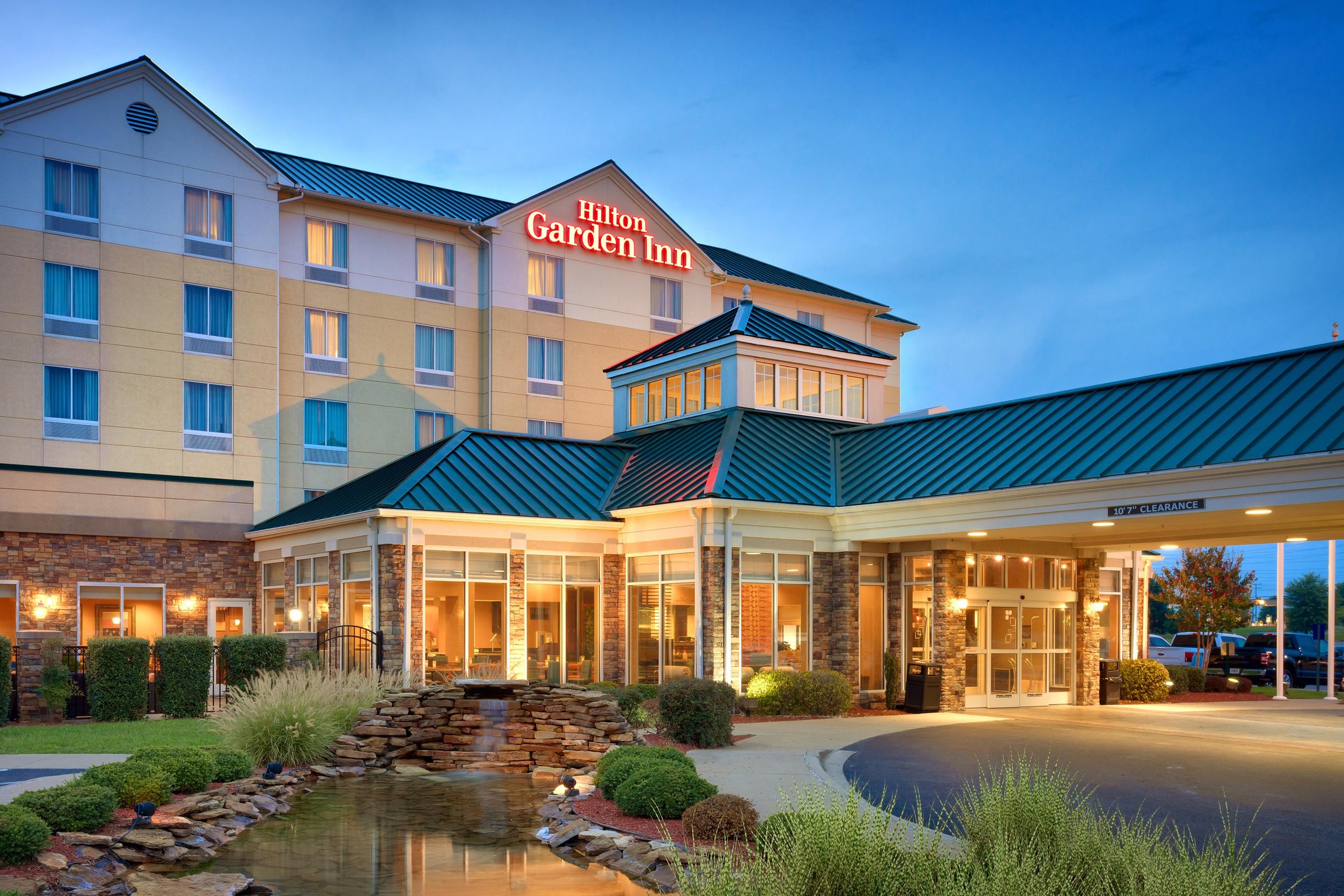 2 places of interest within 3281 ft, 6.2 mi from downtown
View Map
Wi-Fi in designated areas

King Room
Air conditioningRefrigeratorTVMicrowave
Free cancellation before 23:59, October 23, 2021 (hotel's local time)
Buffet breakfast, extra $11.95
Confirmed within 12 hours
Confirmed within 12 hours

Two Queen Room
Air conditioningRefrigeratorTVMicrowave
Free cancellation before 23:59, October 23, 2021 (hotel's local time)
Buffet breakfast, extra $11.95
Confirmed within 12 hours
Confirmed within 12 hours

Deluxe Two Queen Room
Air conditioningRefrigeratorMicrowaveHairdryer
Free cancellation before 23:59, October 23, 2021 (hotel's local time)
Buffet breakfast, extra $11.95
Confirmed within 12 hours
Confirmed within 12 hours

Deluxe King Room
Air conditioningRefrigeratorTVMicrowave
Free cancellation before 23:59, October 23, 2021 (hotel's local time)
Buffet breakfast, extra $11.95
Confirmed within 12 hours
Confirmed within 12 hours

Junior King Bed Suite
Air conditioningRefrigeratorHairdryer
Free cancellation before 23:59, October 23, 2021 (hotel's local time)
Buffet breakfast, extra $11.95

Junior Hearing Accessible King Bed Suite
Air conditioningRefrigeratorHairdryer
Free cancellation before 23:59, October 23, 2021 (hotel's local time)
Buffet breakfast, extra $11.95

1 KING PREMIUM W/IN-ROOM DRINKS-SNACKS
Air conditioningRefrigeratorHairdryer
Free cancellation before 23:59, October 23, 2021 (hotel's local time)
Buffet breakfast, extra $11.95

2 QUEENS PREMIUM W/IN-ROOM DRINKS-SNACKS
Air conditioningRefrigeratorHairdryer
Free cancellation before 23:59, October 23, 2021 (hotel's local time)
Buffet breakfast, extra $11.95

King Room with Whirlpool
Air conditioningRefrigeratorHairdryer
Free cancellation before 23:59, October 23, 2021 (hotel's local time)
Buffet breakfast, extra $11.95
Confirmed within 12 hours
Confirmed within 12 hours
Hotel Policy
Check-in and Check-out
Check-in

from 15:00

Check-out

before 12:00
Child Policies
Children are welcome at this hotel. Additional fees may be charged when a child stays at the hotel with parents or guardians, please confirm with the hotel.
Need to Know
Important City Info
Guests must provide a credit card when checking in. The hotel will pre-authorize your card and the pre-authorization will be released if there are no extra charges or damage to the room when checking out. Some hotels and room types have special policies, please check with the hotel for more information.
Hotel Description
Opened: 2008
Number of Rooms: 111
Experience a warm Tennessee welcome and a relaxed New South attitude at Clarksville's most modern full service hotel, the Hilton Garden Inn Clarksville hotel. Located at Exit 4, just off of I-24, the Hilton Garden Inn Clarksville, Tennessee hotel is adjacent to the Clarksville-Montgomery County Corporate Business Park (home of the new Hemlock Semiconductor Site), minutes from Fort Campbell and Austin Peay State University, and less than an hour from Music City USA - Nashville, Tennessee.The Hilton Garden Inn Clarksville, TN Hotel Rooms Feature:* The Garden Sleep Systema?¢ adjustable beds in all of our rooms. It's the best night's sleep you have ever had!* Complimentary wireless and wired high-speed Internet access throughout the hotel and rooms* 32'' High Definition Plasma Televisions with complimentary HBO??* An in-room hospitality center with a microwave, micro-fridge and coffee maker* A large work desk with Herman Miller Mirra?? Ergonomic Desk Chair* A Complimentary USA Today?? delivered to your room each weekday morningDine at the Great American Grill?? at our Hotel in ClarksvilleThe Hilton Garden Inn Clarksville hotel restaurant, the Great American Grill, is the perfect place to start your day, catch a quick lunch or finish off the day with a meal that is both casual as well as classic. Our Chef has prepared a menu that is one of a kind, featuring your favorite Southern influences: Coastal, Cajun, and Comfort. Perhaps you would rather dine in the comfort of your room. The Hilton Garden Inn hotel in Clarksville, Tennessee offers room service nightly from 5pm to 10pm. There's no need to go out to meet friends for that evening drink, the Great American Grill also has a full service bar. Try one of our specialty martinis, a glass of wine or grab a cold beer and never have to leave the parking lot.The Pavilion Pantry?? has a selection of refrigerated, frozen and microwaveable items perfect for your in-room enjoyment, plus a wide array of healthy snacks. Don't worry
Services & Amenities
Wi-Fi in designated areas
Free
Restaurant
Bar
Front desk (24 hours)
Wake-up call
Gym
Spa
Indoor swimming pool
Luggage storage
Outdoor swimming pool
Children's meals
Conference hall
Kids' playground
Fax/copying service
Multi-function room
Business center
ATM
Restaurant

Gym

Spa

Indoor swimming pool

Conference hall

Wedding service

Lobby bar
Transportation Services
Shuttle service to nearby landmarks

Free
Front Desk Services
Express check-in/check-out

Private check-in/check-out
Public Area
Wi-Fi in designated areas

Free
Transport & Attractions
Places of Interest
Clarksville Visitor Centre
2180 ft
Planet 3 Extreme Air Park
0.7 mi
Beachaven Vineyards & Winery
1.7 mi
Tennessee valley brewing company
2.4 mi
Haven't found the right hotel yet?