The Waterfront Beach Resort, A Hilton Hotel
21100 Pacific Coast Hwy, Huntington Beach, CA 92648, California, United States
Show on map
Opened: 1990 The Hilton Waterfront Beach Resort is located on the picturesque coastline of Southern California, in the heart of Surf City USAa?¢ in Huntington Beach California. A captivating coastal oasis, with stylish accommodations, this dynamic Huntington Beach resort is a premier destination for discerning travelers. Uncompromising service and the memory of striking sunsets over the Pacific Ocean will forever beckon visitors back to our hotel in Huntington Beach.This AAA four-diamond rated Hilton hotel and resort in Huntington Beach is close to several major California airports, including Los Angeles (LAX), Long Beach (LGB), and John Wayne Orange County (SNA). Centrally located in the heart of, Southern California, there are many major attractions nearby, including Disneyland, Disney's Grand California Adventure, Knott's Berry Farm, the Aquarium of the Pacific, and neighboring Laguna and Newport Beach. The rooms at the Hilton Huntington Beach, CA hotel are thoughtfully designed to bring you complete comfort and tranquility. Coastal sunsets from your private, furnished balcony and the sound of crashing waves will wash away the stress of your everyday life. Sleep better than you have in years, and awake to picturesque views and all of the comforts of home at our Huntington Beach, California hotel.Guests of our Huntington Beach resort can enjoy our signature restaurant, Shades Restaurant & Bar, serving fresh and innovative fare, is the perfect spot for a power breakfast, lunch, dinner or a romantic rendezvous. The beautifully appointed dining room and energized poolside patio, with its flickering fire pit, intoxicating ocean views and live entertainment, offer something for everyone and is the ultimate backdrop for dining, gathering with friends and people watching.Throughout the summer, our Surf Hero Deli and Beach Cabana are open, offering a perfect place to grab a bite to eat by our pool or on the beach.Whether it be surf lessons, bike rides on the boardwalk, beach volleyba
Show More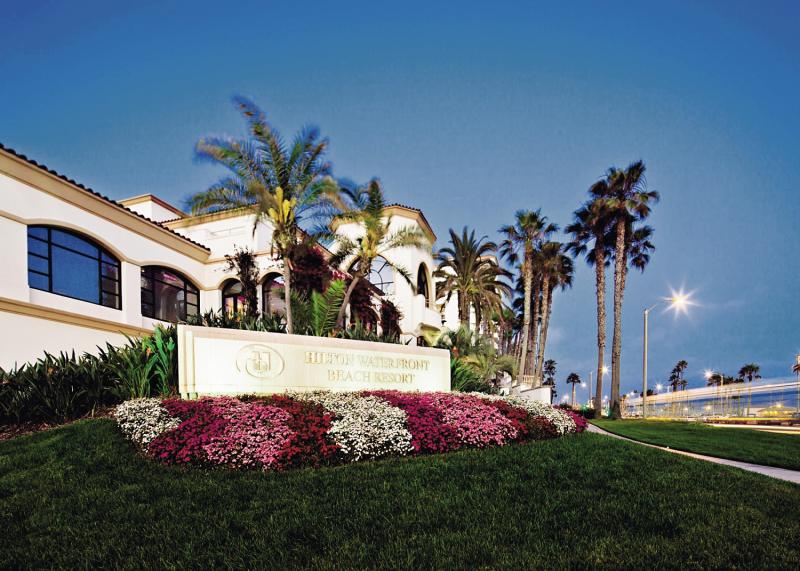 10 places of interest within 3281 ft, 2943 ft from downtown
View Map
Wi-Fi in designated areas

Resort View King Room Huntington Tower
Air conditioningSeparate shower roomTelephone
Free cancellation before 23:59, October 26, 2021 (hotel's local time)
Buffet breakfast, extra $27.00
Free cancellation before 23:59, October 26, 2021 (hotel's local time)
Buffet breakfast, extra $27.00

Partial Oceanview King Room Huntington Tower
Air conditioningSeparate shower roomTVTelephone
Best price with free cancellation
Free cancellation before 23:59, October 26, 2021 (hotel's local time)
Buffet breakfast, extra $27.00
Free cancellation before 23:59, October 26, 2021 (hotel's local time)
Buffet breakfast, extra $27.00

Resort View Two Queen Room Huntington Tower
Air conditioningSeparate shower roomTelephone
Best price with free cancellation
Free cancellation before 23:59, October 26, 2021 (hotel's local time)
Buffet breakfast, extra $27.00
Free cancellation before 23:59, October 26, 2021 (hotel's local time)
Buffet breakfast, extra $27.00
Free cancellation before 23:59, October 26, 2021 (hotel's local time)
Buffet breakfast, extra $27.00

Partial Oceanview Two Queen Room Huntington Tower
Air conditioningSeparate shower roomTVHairdryer
Best price with free cancellation
Free cancellation before 23:59, October 26, 2021 (hotel's local time)
Buffet breakfast, extra $27.00
Free cancellation before 23:59, October 26, 2021 (hotel's local time)
Buffet breakfast, extra $27.00
Free cancellation before 23:59, October 26, 2021 (hotel's local time)
Buffet breakfast, extra $27.00

Oceanview Two Queen Room Huntington Tower
Air conditioningSeparate shower roomTelephone
Best price with free cancellation
Free cancellation before 23:59, October 26, 2021 (hotel's local time)
Buffet breakfast, extra $27.00
Free cancellation before 23:59, October 26, 2021 (hotel's local time)
Buffet breakfast, extra $27.00
Free cancellation before 23:59, October 26, 2021 (hotel's local time)
Buffet breakfast, extra $27.00

Premium Oceanview One Bedroom Two Queen Suite Twin Dolphin Tower
Air conditioningSeparate shower roomTVTelephone
Best price with free cancellation
Free cancellation before 23:59, October 26, 2021 (hotel's local time)
Buffet breakfast, extra $27.00
Free cancellation before 23:59, October 26, 2021 (hotel's local time)
Buffet breakfast, extra $27.00
Free cancellation before 23:59, October 26, 2021 (hotel's local time)
Buffet breakfast, extra $27.00
Free cancellation before 23:59, October 26, 2021 (hotel's local time)
Buffet breakfast, extra $27.00

Oceanfront King Room Huntington Tower
Air conditioningSeparate shower roomTVTelephone
Buffet breakfast, extra $27.00
Confirmed within 12 hours

Oceanfront Two Queen Room Huntington Tower
Air conditioningSeparate shower roomTVTelephone
Buffet breakfast, extra $27.00
Special offer! Non-refundable

Oceanfront King Studio Suite Huntington Tower
Air conditioningSeparate shower roomTVTelephone
Buffet breakfast, extra $27.00
Confirmed within 12 hours
Buffet breakfast, extra $27.00
Confirmed within 12 hours
1 king bed and 1 sofa bed
Reviews
你是我的细亚

China

Stayed in November 2019

Friends

3 Reviews

Guest User

United States

King Bed Room with Resort View

Stayed in May 2019

Families

1 Review

爽

China

King Bed Room with Partial Sea View

Stayed in February 2019

Families

5 Reviews
Hotel Policy
Check-in and Check-out
Check-in

from 16:00

Check-out

before 11:00
Child Policies
Children are welcome at this hotel.
Need to Know
Check-in and Check-out Times
Check-in: from 16:00. Check-out: before 11:00. Please ensure you check in within the designated times.
Important City Info
Guests must provide a credit card when checking in. The hotel will pre-authorize your card and the pre-authorization will be released if there are no extra charges or damage to the room when checking out. Some hotels and room types have special policies, please check with the hotel for more information.
Hotel Description
Opened: 1990
Renovated: 2007
Number of Rooms: 290
The Hilton Waterfront Beach Resort is located on the picturesque coastline of Southern California, in the heart of Surf City USAa?¢ in Huntington Beach California. A captivating coastal oasis, with stylish accommodations, this dynamic Huntington Beach resort is a premier destination for discerning travelers. Uncompromising service and the memory of striking sunsets over the Pacific Ocean will forever beckon visitors back to our hotel in Huntington Beach.This AAA four-diamond rated Hilton hotel and resort in Huntington Beach is close to several major California airports, including Los Angeles (LAX), Long Beach (LGB), and John Wayne Orange County (SNA). Centrally located in the heart of, Southern California, there are many major attractions nearby, including Disneyland, Disney's Grand California Adventure, Knott's Berry Farm, the Aquarium of the Pacific, and neighboring Laguna and Newport Beach. The rooms at the Hilton Huntington Beach, CA hotel are thoughtfully designed to bring you complete comfort and tranquility. Coastal sunsets from your private, furnished balcony and the sound of crashing waves will wash away the stress of your everyday life. Sleep better than you have in years, and awake to picturesque views and all of the comforts of home at our Huntington Beach, California hotel.Guests of our Huntington Beach resort can enjoy our signature restaurant, Shades Restaurant & Bar, serving fresh and innovative fare, is the perfect spot for a power breakfast, lunch, dinner or a romantic rendezvous. The beautifully appointed dining room and energized poolside patio, with its flickering fire pit, intoxicating ocean views and live entertainment, offer something for everyone and is the ultimate backdrop for dining, gathering with friends and people watching.Throughout the summer, our Surf Hero Deli and Beach Cabana are open, offering a perfect place to grab a bite to eat by our pool or on the beach.Whether it be surf lessons, bike rides on the boardwalk, beach volleyba
Services & Amenities
Wi-Fi in designated areas
Restaurant
Café
Bar
Non-smoking floor
Front desk (24 hours)
Wake-up call
Gym
Spa
Massage
Sauna
Luggage storage
Outdoor swimming pool
Free
Private beach
Conference hall
Kids' club
Childcare service
Multilingual staff
Fax/copying service
Tennis
Water sports
Business center
ATM
Restaurant

Bar

Gym

Spa

Outdoor swimming pool

Conference hall

Kids' club
Transportation Services
Shuttle service to nearby landmarks

Free
Activities
Outdoor swimming pool

Free
Front Desk Services
Attraction ticket service

Attraction ticket counter

Express check-in/check-out

Private check-in/check-out
Cleaning Services
Laundry service (off-site)
Public Area
Wi-Fi in designated areas
Transport & Attractions
Airports
John Wayne Airport
About 20m from hotel by car
10.6 mi
Long Beach Municipal Airport
About 33m from hotel by car
19.2 mi
Railway Stations
Santa Ana Regional Transportation Center
About 28m from hotel by car
15.8 mi
Santa Ana Train Station
About 29m from hotel by car
16.1 mi
Places of Interest
Toes on the Nose Surf Shop
1435 ft
Pedego Electric Bikes La Quinta
2721 ft
International Surfing Museum
2908 ft
Haven't found the right hotel yet?