Activity Details
It includes 45 classic attractions, tours and experiences
You can choose to visit whatever is listed! (The actual attractions may be different)
An English guidebook is included containing all-you-need-to-know about attractions
This guidebook is for reference only, please check the official website for latest information
Big Bus Las Vegas Hop-On Hop-Off 1-Day Tour
Madame Tussauds Las Vegas
VEGAS! THE SHOW
Hoover Dam Tour
High Roller Observation Wheel at the LINQ: Daytime Pass LINQ
Stratosphere Observation Deck Plus VIP Access
V - The Ultimate Variety Show V
Meal at Planet Hollywood Restaurant
CSI: The Experience
Señor Frogs: One-Hour Open Bar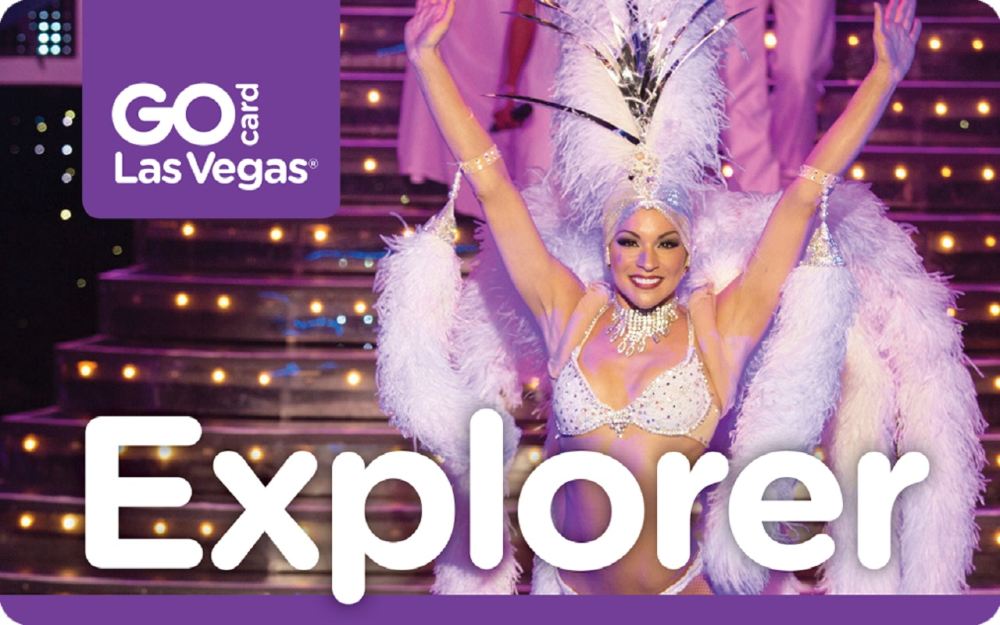 All the above information is for reference only
Inclusions
Go Las Vegas Explorer Pass (3, 5 or 7-Choice Passes)
A guidebook (Please request when redeem your ticket)
Exclusions
All personal expenses and expenses not mentioned in the inclusions
Change & Refund Policies
Once this product is successfully booked, it cannot be changed or canceled
Trip.com only provides the booking service for this travel product. The specific cancellation policies are strictly in accordance with the supplier's standards. Please read carefully before booking
How to Use It
All times are given in local time
After successful booking, a text and an email containing QR code will be sent to you. Click the link to get your e-voucher. Please present the e-voucher to gain admission
Activity Essentials
1. Restrictions on use: 1) Pass is registered for real name, only for personal use. One card for one person. It is not allowed to borrow or sell under any circumstances. If it is lost or stolen, it cannot be reissued. You will need to purchase another card, so please keep it carefully.
2) Some attractions or tours may need to be reserved in advance on the official website or by phone call. A small portion of the reservation requires information of credit card as an appointment guarantee. Please refer to the card usage guide for specific terms.
2, the validity period:
1) From the date of booking, the voucher can be exchanged for one year.
2) The pass can be activated during the validity period of the coupon.
3) The card valid time is the next N consecutive natural days after activation (including the day of activation), N depends on the ticket type you purchased.
4) The usage time filled in at the time of booking does not affect the actual use. Please use it within the validity period.
3. Itinerary suggestion: Considering the distance between the attractions and the comfort of the tour, it is recommended to visit 3-4 attractions in one day.
For details of the including attractions, please check the official website; official website address: https://gocity.com/los-angeles/en-us/products/all-inclusive/attractions
Traveler Information
Adult: Age 13+
Child: Age 3 to 12
Booking Validity
Valid for 364 days from the specified date
Important Information
Please provide your personal information and contact details when booking
For most of the attractions, kids aged 2 and under are free to enter; kids aged 3 to 14 are available for children's tickets. However, some attractions have its own special policy,e refer to the guidebook for more detailed information
This voucher is valid within 364 days after purchase
Once activated, the voucher is valid within 30 days
Restrictions: 1) Pass is registered for real name, only for personal use. Please present your Passport when redeem your ticket. One card is for one person. It is not allowed to borrow or sell. If it is lost or stolen, it cannot be reissued. You need to purchase another pass. Please keep it safe 2) Advance reservations may be required for some of the tours included on the pass; mention you are a Las Vegas Explorer Pass holder. A small portion of the reservation requires a credit card as an appointment guarantee, please consult your guidebook for more details
The card is valid for the number of consecutive calendar days purchased, beginning on the first day of use
Please redeem and use the ticket within validation period
Suggestion: Considering the distance between the attractions and the comfort of the tour, it is recommended to visit 3-4 attractions in one day