Hampton Inn & Suites Madison - West
483 Commerce Drive, Madison, WI 53719, Wisconsin, United States
Show on map
Opened: 2008 a suite way to enjoy Madison, Wisconsin...welcome to the Hampton Inn & Suites Madison-West Welcome to the state's capital city of Madison that is situated on a thin strip of Wisconsin landscape dividing scenic Lake Monona from the larger Lake Mendota. The twin lakes that flank Madison provide visitors with breathtaking views, thrilling boating excursions and fun-filled swimming retreats. Nobody gets you closer to the fun and excitement than the Hampton Inn & Suites?? Madison.There's no better place to begin a visit to Madison than right in the heart of downtown, located just minutes from our hotel. Madison's "Museum Mile" features six museums and galleries that offer something for the seasoned art critic and the curious novice alike. For fun and unique shopping, check out State Street, a pedestrian mall lined with eclectic specialty shops, restaurants and outdoor cafes. Ready for a thrill? Rent a kayak or canoe and head out on Lake Mendota for an afternoon on the water. Stop by the city's official welcome center downtown on the University of Wisconsin - Madison campus and find out more about the Henry Vilas Zoo, Madison Children's Museum and the UW Arboretum. While you're on campus, buy your tickets for the next Badgers football game. The team has become a consistent national powerhouse and there are few better ways to spend a Saturday than at a Big-10 game. When you visit the Hampton Inn & Suites Madison, you'll quickly discover that the land between the lakes is the right place to be. services & amenities Even if you're in Madison to enjoy the great outdoors, we want you to enjoy our great indoors as well. That's why we offer a full range of services and amenities at our hotel to make your stay with us exceptional. Are you planning a meeting? Wedding? Family reunion? Little League game? Let us help you with our easy booking and rooming list management tools.* Meetings & Events * Local Restaurant Guide
Show More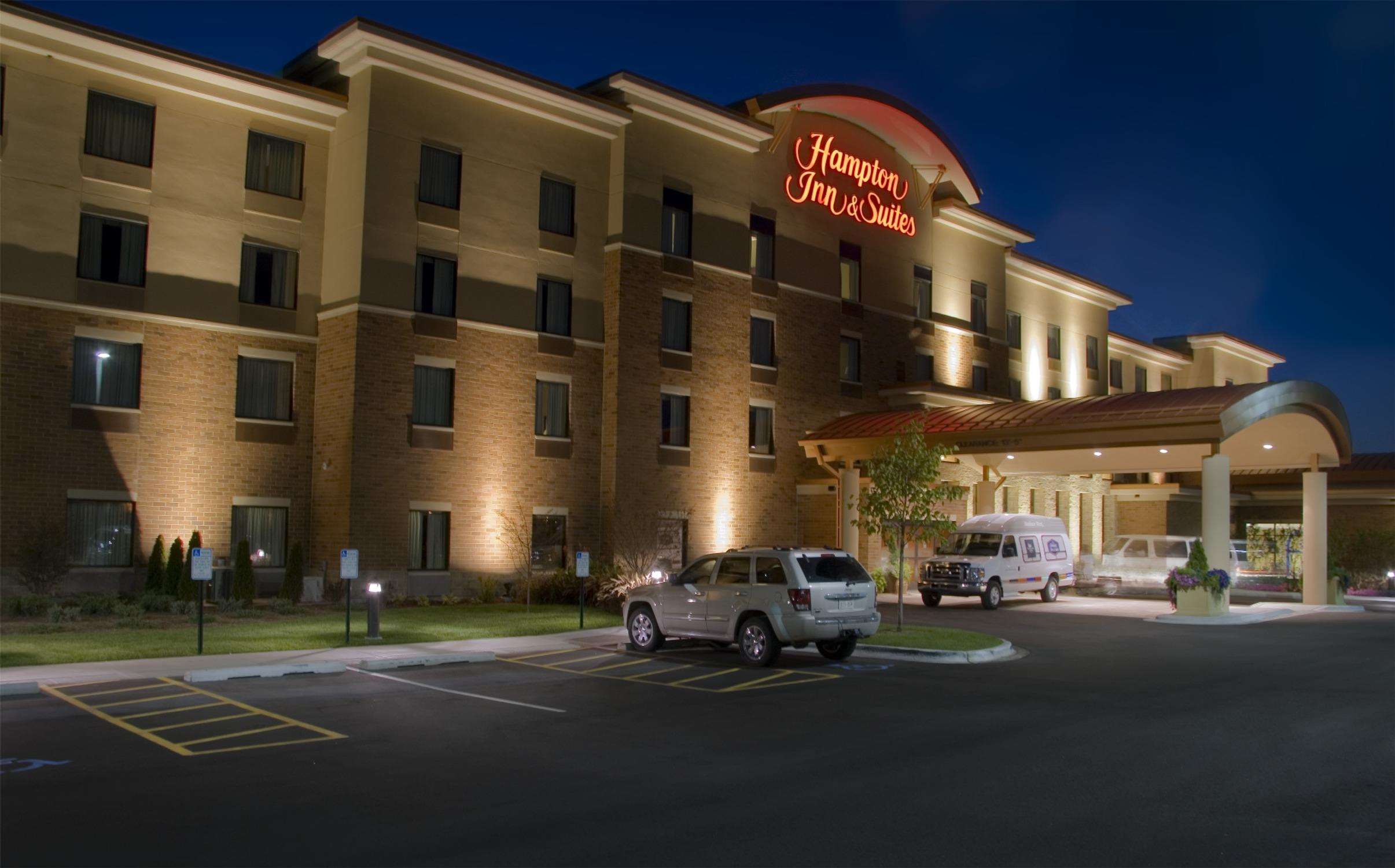 2 places of interest within 3281 ft, 6.1 mi from downtown
View Map
Wi-Fi in designated areas

King Room
Air conditioningRefrigeratorTVHairdryer
Free cancellation before 23:59, October 19, 2021 (hotel's local time)
Free cancellation before 23:59, October 19, 2021 (hotel's local time)

Mobility/Hearing Accessible King Room with Accessible Tub
Air conditioningRefrigeratorTVHairdryer
Free cancellation before 23:59, October 19, 2021 (hotel's local time)
Mobility/Hearing Accessible Two Queen Room with Accessible Tub
Air conditioningRefrigeratorTVHairdryer
Best price with 2 breakfasts
Free cancellation before 23:59, October 19, 2021 (hotel's local time)
Free cancellation before 23:59, October 19, 2021 (hotel's local time)
Free cancellation before 23:59, October 19, 2021 (hotel's local time)
Confirmed within 12 hours

Two Queen Room
Air conditioningRefrigeratorTVHairdryer
Best price with 2 breakfasts
Free cancellation before 23:59, October 19, 2021 (hotel's local time)
Free cancellation before 23:59, October 19, 2021 (hotel's local time)
Free cancellation before 23:59, October 19, 2021 (hotel's local time)
Free cancellation before 23:59, October 19, 2021 (hotel's local time)
Confirmed within 12 hours

King Studio Suite
Air conditioningRefrigeratorTVMicrowave
Best price with 2 breakfasts
Free cancellation before 23:59, October 19, 2021 (hotel's local time)
Free cancellation before 23:59, October 19, 2021 (hotel's local time)

Mobility/Hearing Accessible King Suite with Roll In Shower
Air conditioningRefrigeratorTVHairdryer
Free cancellation before 23:59, October 19, 2021 (hotel's local time)
Hotel Policy
Check-in and Check-out
Check-in

from 15:00

Check-out

before 12:00
Child Policies
Children are welcome at this hotel. Additional fees may be charged when a child stays at the hotel with parents or guardians, please confirm with the hotel.
Need to Know
Important City Info
Guests must provide a credit card when checking in. The hotel will pre-authorize your card and the pre-authorization will be released if there are no extra charges or damage to the room when checking out. Some hotels and room types have special policies, please check with the hotel for more information.
Hotel Description
Opened: 2008
Number of Rooms: 132
a suite way to enjoy Madison, Wisconsin...welcome to the Hampton Inn & Suites Madison-West Welcome to the state's capital city of Madison that is situated on a thin strip of Wisconsin landscape dividing scenic Lake Monona from the larger Lake Mendota. The twin lakes that flank Madison provide visitors with breathtaking views, thrilling boating excursions and fun-filled swimming retreats. Nobody gets you closer to the fun and excitement than the Hampton Inn & Suites?? Madison.There's no better place to begin a visit to Madison than right in the heart of downtown, located just minutes from our hotel. Madison's "Museum Mile" features six museums and galleries that offer something for the seasoned art critic and the curious novice alike. For fun and unique shopping, check out State Street, a pedestrian mall lined with eclectic specialty shops, restaurants and outdoor cafes. Ready for a thrill? Rent a kayak or canoe and head out on Lake Mendota for an afternoon on the water. Stop by the city's official welcome center downtown on the University of Wisconsin - Madison campus and find out more about the Henry Vilas Zoo, Madison Children's Museum and the UW Arboretum. While you're on campus, buy your tickets for the next Badgers football game. The team has become a consistent national powerhouse and there are few better ways to spend a Saturday than at a Big-10 game. When you visit the Hampton Inn & Suites Madison, you'll quickly discover that the land between the lakes is the right place to be. services & amenities Even if you're in Madison to enjoy the great outdoors, we want you to enjoy our great indoors as well. That's why we offer a full range of services and amenities at our hotel to make your stay with us exceptional. Are you planning a meeting? Wedding? Family reunion? Little League game? Let us help you with our easy booking and rooming list management tools.* Meetings & Events * Local Restaurant Guide
Services & Amenities
Wi-Fi in designated areas
Restaurant
Bar
Non-smoking floor
Front desk (24 hours)
Wake-up call
Gym
Spa
Indoor swimming pool
Luggage storage
Children's meals
Conference hall
(Additional fee)
Multilingual staff
Fax/copying service
Bowling
Business center
Skiing
Restaurant

Gym

Indoor swimming pool

Conference hall
Front Desk Services
Express check-in/check-out

Private check-in/check-out
Cleaning Services
Laundry service (off-site)
Public Area
Wi-Fi in designated areas
Business Services
Conference hall

(Additional fee)
Transport & Attractions
Airports
Dane County Regional Airport
About 29m from hotel by car
16.9 mi
Haven't found the right hotel yet?